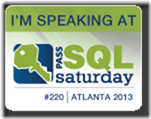 I know right? I am so far behind half a dozen post started and none posted. Good intentions never finished. "Someday" that never came. So let me get to the real point of this post so that I can promptly drag you off in left field. WE ARE GOING TO ATLANTA and I AM PRESENTING!! BONUS BONUS! #SQLFAMILY #PASS + Ikea. (DO NOT judge me!)
Okay so here is how the story goes. I submitted and they said no (no worries these things happen).  Because we pay for all the SQL travel out of pocket we made the decision that we'd not go to Atlanta if I wasn't presenting, we need bang for buck. We had considered heading down for just an over night stay to see #sqlfamily.  There was a direct message sent to Kerry to see if I was still available.  (being only 4 hours away makes this totally a 1 day trip if one should choose) Uh……… We discussed and said we'd be okay with that. Here we are like 1 week away and we are going to ATLANTA and I am presenting. OMG! OMG! OMG! So guess what? I am going to show the whole world , uh not really the <= 30 people that can fit into the room how to create an SSRS report in 45 minutes. Why? Well I have found great usefulness in being able to create reports on the fly. As a DA I found it was great to help new clients flush out their requirements (surprise they think they know what they want) while not tying me to running queries daily. As a database engineer I found that people are FREAKED out by new process and like to see data, I however am not fond of anything requiring me to do something on time, repeatedly and manual. As a "accidental DBA" I find a lovely email in my in box every morning telling me what all my little <strike>moron</strike> friends did to hurt my server over night much more enjoyable than manually launching SSMS and running a query. So you can come to my session and right quick we'll get a report on the server and scheduled to run! h
Also note that you will find me at the #PASS booth spreading the joy of #SQLCommunity and the love of #SQLFamily. Do come by and see me.
OKAY here is where I commandeer the post. I had been thinking about what goes in to getting to a #SQLSAT. For me it's list, list, list.  First there is the budget. Kerry (@airbornegeek | blog) and I pay for 99% of our travel and conferences out of pocket. This basically means that we have not had a vacation since 2009 and everything is wrapped around a conference or SQL Saturday. If I don't get picked to present it is likely that we will cross that from the list and try to attend another event, bang for you buck. We have a list of events that we've been to and that we'd like to go. This list gets bigger as the days go by. Air travel is expensive so if it's within reasonable driving distance we give extra points. It's all CrAzY!  But the point is once we get the decision made the new list starts. The first things added to the list are all the travel requirements; register for the event, book a hotel, get a car, get a flight, get a dog sitter, and ask for time off. The second phase of the list has to deal with logistics and presenting. Make a list of all the things you need. If this is the first time you have presented on this topic you will have more items on the list than if you had already done this a time or too. What's on that list? Slides, screen shots, demos pre written, note pad with all the cut and paste items you need (NEVER TYPE IN A DEMO). Zoom It, clean your desktop off, samples of data? Then as the great list maker that I am the list includes checking with people who live there or will be there to see if we can get together. And as many list do mine goes on to include adding details to TripIt, posting about the opportunity to speak, making list for those staying behind and a packing list. Oh Oh Oh! Then there is the list of things that we want to do or get while visiting where ever we are. Let me give you an example, and let me use this Atlanta trip.
Book hotel

don't forget weighing rewards points over pricing/credit cards and the like

car

This is now broken into the following because we are borrowing a friend's car and giving ours in it's place:

clean our car (remove items, sweep and clean)
fill with gas
arrange exchange with friend

dad – dates (he's dog sitting)

At the last minute secure neighbors to let the dogs out when dad works late because this has happened
leave a list of number of folks who could let the out should something happen at work
call the vet and make sure they treat your dogs and wait for your return to pay (not an issue generally after you take your first trip)

Time off request to employers (block calendars, notify projects)
packing list

Clothes

ride to Atlanta clothes
ride home clothes
presenting clothes

badge holder with flags / jewelry lanyard

speaker dinner clothes
Sat night clothes
Friday romping around clothes
dinner clothes (if we go nice)
work out clothes
something comfy if  "I no feel good"

Electronics

Power cords

phone
laptop
splitter/zip strip for hotel
backup battery

wireless mouse
travel router
wireless keyboard
iPad or tablet
Camera Gear!!!
Do the battery charging dance

Driving items
Food

Breakfast packed in cooler (saves money and is more healthy)
Coffee substitute beverages (picky coffee person – sometimes I just take my press)
water (grab gallon jug of water to fill water bottles – cheaper and more environmentally friendly)
Soda ( a diet coke in the hotel is ~$2, you can bring a 2 LTR from home for less than that)

Other things to do before we leave

Do laundry
Clean house ( don't want to come home to a mess)

Does the bed need changed?

OMG I am do for a hair cut – schedule that!!
Mowing the yard scheduled????
Checking the mail? – GET USPS to hold it (this can be done on line)
Newspaper – Get that held/stopped while you are gone. (papers piling up in the drive are a dead give-away that you are not there)
Start a shopping list for anything that we need to take with.
Contact #sqlfamily to hang out

Ikea (yeah! since we don't have one I have told all my friends to make a list)

Today I printed my family card!
Today I started my shopping list.

I have a bookmark folder that I put places/things in that we should visit when traveling. I basically know some of the places we will go back to.