I have been playing with Power BI items lately and have found some really good uses and some really big shortcomings. But today while I was playing with something an idea popped into my head. As a SQLSaturday organizer I found creating the schedule for print was a PITA. I have seen people just print the screen, which makes blowing it up to poster size a bit of a mess. I had to cut and paste, fix, format and it ends up a hot mess like below so I think I ended up just typing it.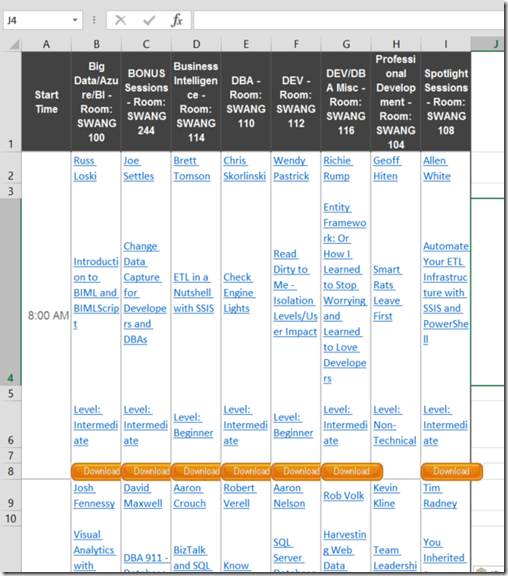 So let me give you a better option. This is so easy I am pretty sure even my non-technical dad could do this.
Open Excel and be sure that you have POWER QUERY installed. If you don't a simple Bing search will send you to the download page and it truly only takes a couple seconds. Select the POWER QUERY TAB, now select "From Web".

We are going to use SQLSat #272, Nashville's from January 2014. In the pop up paste the URL to your SQLSaturday Schedule and select ok.

This will take a few seconds but when it is complete on the far right side you will see a pane labeled Navigator.  Under that you'll see a file folder with your web address and 3 table icons named Table 0, Table 1 and Document. You can click on it once to get a preview of the data. Table 0 is your schedule, Table 1 is all the submitted sessions and Document is HTML data we don't need. Since we are only after the schedule double click on Table 0. This will open a new window (below).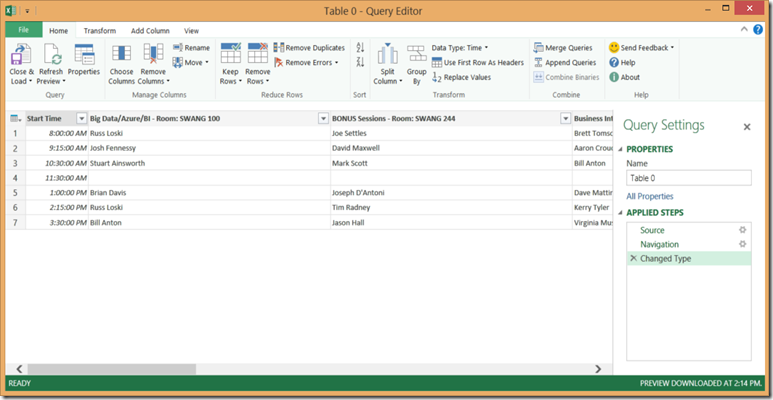 I renamed my Table 0 to 'Schedule 272'. I know it looks like there is only the speaker name, but if you click in a cell you'll see all the data is there. Now select "Close & Load"

Now you have very little formatting to do. For me I Hit the design tab and removed the coloring. A couple of formatting items and you now have a schedule that is printable. Best part is that you can right click in the Work Book Queries pane and Refresh the data.
My completed schedule, quick and easy.